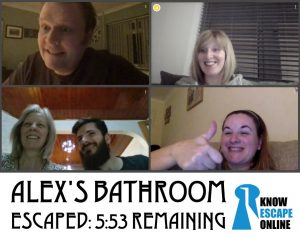 Three days after the Covid-19 outbreak in the UK forced our eleven escape rooms to close we launched an online escape room service.
Ours was the first to market with real live games masters as a direct response to the Covid outbreak.  We had never run online escape rooms before, and it has been nothing but fun!
The games are played entirely online in a virtual video chat space.  Players can connect to the game from anywhere in the world and all players can see each other via web cam and hear each other via audio.
There are two really important factors which make the story and experience of Escape Rooms great, they are:
(1) Being supported by a real human working as a 'Games Master'
(2) A time limit (countdown clock to build the tension)….
In our online experiences, we have both.
Our games last a full hour and a real live Games Master (one of our team) is present to support and facilitate the experience, from connecting to clue giving through to adding general humour along the way. When teams need a clue, they put hands on heads (same as our physical rooms).  The price is fixed and allows unlimited players in the game (but no strangers!)
By May 1st we had taken over 1000 online bookings and had hosted 800 online games. It took our main competitors between one and seven weeks to eventually catch us up and launch an online room.
I'm so proud of our team, and the lovely reviews we are getting, like this one, on Trust Pilot:

We've been mentioned in the Daily Star who say "They are very interactive, with a real life game master making sure everything runs smoothly."
We've hosted over 6000 players from all over the world, including sports teams, school teachers, nurses, even Google themselves.
Over at the Hertfordshire Mercury my business partner, Will, is quoted to say:
"This is a really exciting option for us while we can't run our rooms, helping to keep our team in jobs and our business operational, as well as answering direct requests from our customers for something fun to do at home."
"With the right support, this venture could keep our business alive and give our growing team a secure future.
"It can also help other businesses to keep their workforce connected as we can host virtual team building and fun."
I'm so proud of our team for making the effort and safely supporting our customers to do something fun at home during this pandemic.
I think my favourite comment so far has been "I'm so pleased you have real games masters in your games, we've played a few without real people running them and did not enjoy the experience as much."
Huge well done to Oli, Will and Tamsyn, without them, this would never have happened. I take no credit.
You can book and play our games online at www.knowescape.co.uk
Notes:
–  Know Escape Ltd is a family run business with eleven physical rooms, four online rooms.
– Established 2017, 70 team members
– Franchises are available at www.knowescapefranchise.co.uk